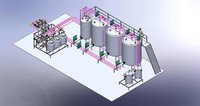 Cip Plant For Dairy Sector
Product Description
CIP PLANT FOR DAIRY SECTOR

We feel pleased to introduce ourselves as the leading Service provider as well as manufacturer of CIP Plant for Dairy Sector in Anand, Gujarat, India. The designing of CIP Plant as well as manufacturing services is highly demanded in dairy sector.

We offer the following design consultancy as well as manufacturing services for dairy sector :
Based on capacity of Dairy ,Type of equipment to be used as well as other misleneous factor we decide which circuit CIP (Single, Double, Three or Four) with equipment Sizing suitable and accordingly giving best suitable solution.
Provide complete plant with full automatic as well as semi-automatic as per the customer actual requirement.
Here we provide complete design consultancy service like first stage P&ID preparation as per the requirement, 3D Plant Layout preparing with manufacturing drawing, Complete estimation sheet prepare for bought out item as well as other accessories requirement, get the bought out item offer with considering all technical parameter as well as giving complete guidance till job to be commissioned with Trial.
Here we also provide the complete job execution design to manufacturing to erection to commissioning at our end.
We fabricate the all necessary equipment for the plant at our reputed manufacturer.
For Installation, Piping and Instrumentation at site we have repute our highly experience contract team till the plant commissioned with running trail.
Contact Us
Plot No. F-47, Pooja Estate Building, GIDC Industrial Area, Opposite Raka Steel, V.U. Nagar, Anand, Gujarat, 388325, India